HD 191089
---
---
---
| RA (J2000) | DEC (J2000) | Category | Spec Type | R band (mag) | Distance (pc) | Disk Major Axis " | Inclination (degrees) | Major axis PA | Reference | Resolution elements across | At ref. wavelength (microns) | # References |
| --- | --- | --- | --- | --- | --- | --- | --- | --- | --- | --- | --- | --- |
| 20 09 05.21 | -26 13 26.5 | Debris | F5 V | 7 | 50 | 1.8 | 59 | 70 | Esposito et al. 2020 | 43.9 | 1.6 | 12 |
Notes:
Disk Inner hole 26 AU in radius
References:
Debris Disk Results from the Gemini Planet Imager Exoplanet Survey's Polarimetric Imaging Campaign
Esposito, T., Kalas, P., Fitzgerald, M.P. et al. 2020 A.J. 160 24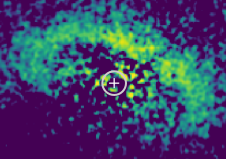 An Exo-Kuiper Belt with an Extended Halo around HD 191089 in Scattered Light
Ren, B., Choquet, E., Perrin, M.D., et al. 2019, Ap.J., 882, 64
Extended scattered light halo in HST/STIS imaging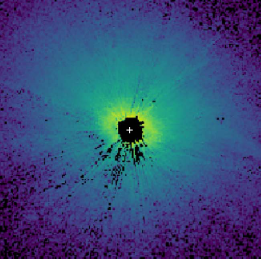 Five Debris Disks Newly Revealed in Scattered Light from the Hubble Space Telescope NICMOS Archive
Soummer, R. et al. 2014, ApJ, 786, 6
HST 1.1μm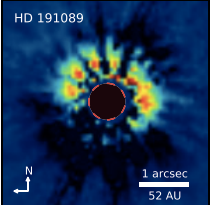 Resolved Imaging of the HD 191089 Debris Disc
Churcher, L., et al. 2011, MNRAS 410, 2
Gemini South 18.3 μm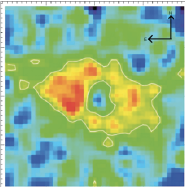 Long-wavelength observations of debris discs around sun-like stars
Roccatagliata, V., Henning, Th., Wolf, S., Rodmann, J., Corder, S., Carpenter, J. M., Meyer, M. R., Dowell, D., 2009, A&A, 497, 409
350 micron detection
The complete census of 70 micron -bright debris disks within ``the formation and evolution of planetary systems'' Spitzer Legacy Survey of Sun-like stars.
Hillenbrand, L. A., Carpenter, J. M., Kim, J. S., Meyer, M. R., Backman, D. E., Moro-Mart?n, A., Hollenbach, D. J., Hines, D. C., Pascucci, I., Bouwman, J., 2008, ApJ, 677, 630